The German national soccer team has been on a downfall since the 2014 World Cup and most recently, the German Football Federation sacked Hansi Flick after a 4-1 loss to the Japanese team this past September. This loss, coupled with the disappointing 2022 World Cup campaign where Germany could not get out of the group stages, led to Flick's sacking which was the first time a manager had ever been sacked from the national team. 
The Previous Decade
It was just nine years ago when the German team won the 2014 World Cup, beating Argentina 1-0. This was the Germans fourth World Cup trophy; they won their first in 1954. In the 2016 Euros, a European competition comparable to the World Cup, they did make it to the semi-finals but up to that point the only strong team they had really faced was Italy in the quarter finals which they only won on penalties. Their manager at the time was Joachim Löw (appointed in 2006.)
The awful results started in the 2018 World Cup where Germany placed last in their group after losing to Mexico and South Korea. During this time Löw seemed reluctant to let go of the players that were aging and call up the new young talents that had emerged. This could be seen in 2018 as the defense looked physically out of shape. 
Germany would top their fairly easy qualification group and qualify to the Euros.  However, before the tournament would commence Germany would suffer their worst ever defeat in competitive play losing 6-0 to Spain in the 2020-21 Nations League due to some woeful defending. The Euros were also postponed to 2021 due to Covid. Germany would only get second in their Euro group after almost losing to Hungary and would bow out in the Round of 16 losing to England 2-0 to cap off yet another disappointing international tournament. This defeat would solidify Löw stepping down as manager and being replaced by Hansi Flick.
2022 World Cup
Germany would be with Japan, Spain and Costa Rica for their group. Flick elected to call up more attacking players than recommended and have a smaller group of defenders. This created an imbalance in the team and Germany would suffer from this as they would be forced to play players out of position as defenders. 
This would prove to not be a good idea as Japan would end up beating the Germans. Germany then went on to draw with Spain 1-1 where they needed to get at least a draw to stay in contention to progress through. However, despite winning their last game against Costa Rica 4-2 they could not get out of their group as Japan beat Spain on the other end meaning that Japan and Spain were through at the expense of Germany.
The Present
As mentioned before, when Germany sacked Hansi Flick they had been on a 5 game winless streak and morale was low among the fans. The federation then hired manager Julian Nagelsmann 12 days later. In between the time Flick was sacked and Nagelsmann was appointed Germany would win in a friendly game against France 2-1.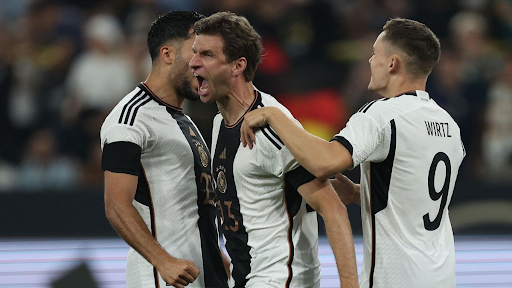 Nagelsmann's first game as manager was against the U.S.A., where the Germans would win 3-1. However, after this they would draw 2-2 with Mexico. Even under the new leadership, it is clear that the problems that have existed since the 2016 Euros are still present. 
One of these problems that the team currently faces is the lack of a good striker as ever since Klose retired neither Werner or Fullkrug have been able to adequately fill those shoes resulting in other players to play as striker. The team also continues to show a lack of their traditional identity of a strong defense and effective strikers with a winning mentality. Another problem is that ever since Klose left there have been no world class players playing for Germany. There are many talented players but there are no world class ones like Jude Bellingham.
One can only wonder if the German National team can turn their fortunes around after these past few years as the team right now is in a very dark place. It is especially important that they turn their fortunes right now as Germany is hosting the upcoming 2024 Euros. However only time will tell to see if Nagelsmann can turn the tide and get this team back to winning ways.