Schoolyard Demolition Signals Exciting Renovation Progress
Museum School's schoolyard renovations are finally in full swing in preparation for the Fall 2023 completion date. Despite students' initial doubts about the project coming to fruition before the end of the year, the demolition of the school's old yard has already begun to make way for the revamped design.
The new yard will include a renovated track and turf field, volleyball and basketball courts, a gazebo, a climbing structure, a ping pong table, fitness stations, several art installations and more, all with sustainability in mind.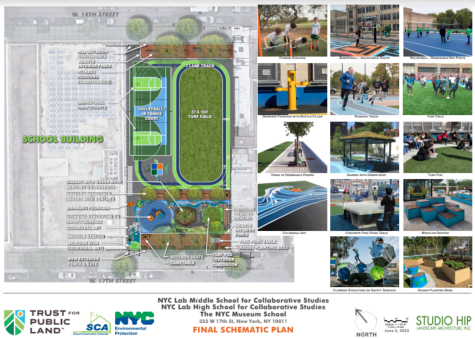 After around a year of preparation, students arrived to find tractors digging up the foundation of our closed off schoolyard. "They broke ground on our exciting, brand new schoolyard. We're very excited that the construction crews started this project during Spring Break so we came back to the initial demolition of the existing schoolyard," said Principal Andre Rodrigues.
All of this comes at no cost to the Museum School. "It's paid for by the Trust for Public Land, so it's not coming out of the budgets from the schools," explained Principal Rodrigues. "It's completed by a local contractor—what happens is these contractors bid on the project, and the winning bid receives the job, and they'd promise that they'd be very efficient and do a very clean and thorough job with minimum disruption to instruction."
The design was a collaborative effort between Museum School, Lab Middle School, and Lab High School. All three communities voted on the finalized yard design from two proposed choices, and all three schools aim to share the space equally.
One of the art installations in the finalized design will be a mural painted in part by Museum School's own student body, along with representatives from Lab Middle and Lab High. The mural will feature panels depicting the mascots of all three schools, as well as a tribute to the Native American communities that inhabited Manhattan prior to European colonization.
This project is currently underway with Ms. Abraham and a dedicated team of Museum students. "We're supposed to have a total of 15 students, so five students for each [school], and all five show up, so our students are very interested," said Ms. Abraham. These students, part of the Museum Beautification Club, meet every Wednesday and Thursday to design new panels.
The club partnered with Groundswell NYC, or the Groundswell Community Mural Project for the design, a New York-based nonprofit organization dedicated to bringing communities together and inspiring societal change through art. "We met up with Groundswell to organize the design. It's supposed to take up the whole wall—it's gonna be pretty large," said Ms. Abraham.

Last school year, a committee of Museum School students gathered to implement their ideas into the design. Anita Uddin, a Museum School junior and member of the committee, said, "The ideas of my peers were included in the final design plan, but this was mostly the middle school ideas." The team last met in May of 2022 before the administration forwarded the design to the contractor.
One Museum freshman, Alexis Chan, said "I think it is hard for three schools to share a space equally, but I do think that it is only fair if we all have access to it. Maybe assigning certain times or dates for each school would be more efficient."
Museum students hope to use the yard significantly more than the previous one. "If it is available to me then [I'll] probably [take advantage of having it] because sometimes the park across the street is really crowded and it's hard to do much with limited space," Chan added.
Museum students, teachers, and administrators are all looking forward to the completion of the project. Principal Rodrigues said, "We're excited about the brand new and improved schoolyard!"