The World Cup Retrospective: The Biggest Failures and Winners
With the 2022 World Cup over, there are a lot of things to take away from it, whether it be the controversy, results, or general sum-up. As per every World Cup, there were teams that completely flopped and failed to progress while there were also teams that shocked the fanbase and exceeded expectations. 
The Failures
Belgium
Belgium was probably the team that had the biggest failure in this World Cup by failing to make it out of the group stage despite getting third place in 2018. Belgium started their campaign this time with an extremely gutsy 1-0 win over Canada with Canada getting the better chances. 
Then against Morocco, Belgium would lose 2-0 which meant they needed to win their next game against Croatia to advance which they then failed to do after missing a slew of great chances to score, which meant they would draw with Croatia 0-0 and walk out of the World Cup early. Belgium's golden generation seemingly is coming to an end and this performance highlights this.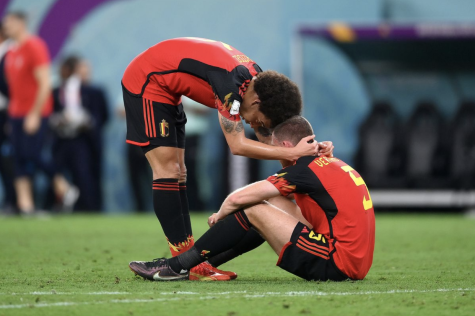 Denmark
Denmark was widely considered to be the dark horse of this World Cup, however, they completely underachieved as they crashed out of the group stage finishing last, and went home disappointed. They started their campaign with a 0-0 draw against Tunisia but then lost 2-1 to France and then 1-0 to Australia. These results would see them end their campaign at the bottom of the group with one measly point. 
Germany
Germany was widely anticipated to bounce back after 2018 but they did quite the opposite. First, they lost to Japan 2-1 in a comeback victory for the Japanese, and then they drew 1-1 with Spain meaning they needed to win against Costa Rica and hope that Spain beat Japan by a lot. While they did win against Costa Rica 4-2, Japan pulled yet another miracle as they would win against the Spanish, meaning that Germany went out early yet again. 
The Winners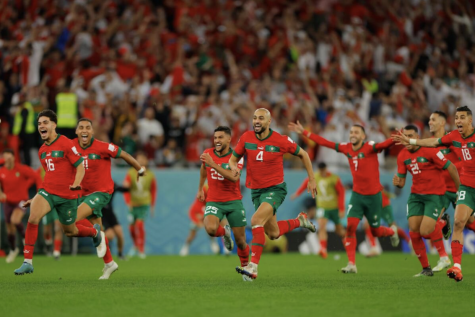 Morocco

 
Morocco came into the tournament with not many people thinking they would even make it out of the group, much like their previous performances at World Cups. But the Moroccans would prove everyone wrong, topping the group by drawing 0-0 with Croatia and beating Belgium 2-0 and Canada 2-1. 
They would then continue their campaign against Spain, where they would force the game to the penalty shootout (a best of 5 sequence where each team kicks penalty kicks) and they only missed one out of four but Spain missed all three of their penalty kicks, meaning that Morocco triumphed.  This sent them to the quarter finals for the first time, where they would play Portugal where they would create a shock yet again, making the score 1-0 at half time and holding onto it despite one of their players getting a red card which meant that Morocco would make history as the first ever African and Arab team to make it into the semi-finals where they would face France. Unfortunately, France would end the Moroccan campaign after winning 2-0. 
Morocco would still have the third place playoff to play where they would once again face Croatia. but they unfortunately could not win making the score 2-1 for Croatia. Despite this loss, the Morocco team should still be proud of their accomplishments in this World Cup and they have gone down in history as the first African and Arab team in the semi finals.
Croatia
Croatia came into this tournament with their previous performance tested as they finished in second place last tournament. However, the team would not be fazed by this and managed to exceed expectations once again. They got past the group, beating Canada 4-1 and drawing with Belgium and Morocco, and then managed to win against an aspiring Japanese team that was hoping to make it to the quarter finals for the first time. However, despite Japan's efforts, it would be Croatia to win it as they played for penalty kicks which they won and then it was on to play Brazil in the quarter finals. 
Croatia held firm and managed to force the game to extra time but they could not stop the Brazilian attack for all the game as Brazil would score late into the first half of extra time but then Croatia struck back in the second half forcing the game to the penalty shootout again and Croatia once again won it after heroics from their goalkeeper who was a rock during the whole tournament which meant the biggest favorites Brazil would be knocked out once again in the Quarter Finals. 
Croatia would then face Argentina who would then end their run to the final but Croatia would still have their third place game to play. They ended up winning this against Morocco and got third place which is certainly not a bad result considering how they were looking going into the tournament. Croatia have proven once again that they are a team not to overlook and they will go far.
Argentina
Argentina came into this tournament as one of the favorites to win this World Cup and they satisfied that expectation completely. They started their campaign with a 2-1 loss to Saudi Arabia which shocked many fans but then regained their form beating Mexico and Poland both 2-0 topping the group.. 
They would march into the round of 16 where they would face Australia who put up a good fight and the final score ended up to be pretty close with a 2-1 win for Argentina which meant that they would go on to face The Netherlands where they would blow a 2 goal lead to force the game to penalty kicks but thankfully for Argentina they were able to win the shootout and advance to play Croatia where they reversed the previous scoreline from 2018 winning 3-0 where Croatia had won by the same score. 
This would then send them to the finals and all the pressure was on for the team and for Messi to finally win a World Cup after 36 years and the final would be an absolute thriller. 
Argentina started off very well going 2-0 up in the first half but France responded by bagging two goals in quick succession late in the second half forcing the game to extra time where Argentina would score one but France would respond yet again forcing the game to the coveted penalty shootout in the finals and Argentina would win that making them the 2022 World Cup Champions. After 36 years of pain Argentina have finally won it again and Messi can finally fill that one missing spot in his trophy cabinet.