Illuminati, Pedophilia, and Balenciaga
American society has always been aware of the "dark side" of Hollywood, from celebrity scandals to the frequent YouTube video of an "outsider" experiencing the odd lifestyle of the rich and famous. Equipped with this knowledge and the new tool of "cancel culture," people create conspiracy theories, which the public decides whether or not to ignore. 
Balenciaga recently posted an ad for their Spring/Summer 2023 collection which debuted this fall at Paris Fashion Week. Featured in their collection were two photos of toddler girls holding teddy bears dressed in harnesses and fishnets. The Balenciaga brand, along with the majority of high-end fashion brands, doesn't make clothes meant for casual wear but rather to send a societal message. At first glance, the teddy bears' clothing seemed to be a throwback to the Balenciaga Fall 22 collection that featured dark romanticism and a gothic theme, accompanied by items like harnesses and fishnets. However, after more careful observation, things seem to get a little weird.  
Surrounding the child models are the case files of United States v Williams. In 2008, Micheal Williams was convicted of promoting child pornography and tried to defend his crime by claiming that the restriction of explicit images of minors was against the first amendment freedom of speech. The court, absolutely unmoved by William's motion, defended the PROTECT Act that "proscribes the pandering of 'any material or purported material in a manner that reflects the belief or that is intended to cause another to believe' that the material is illegal child pornography."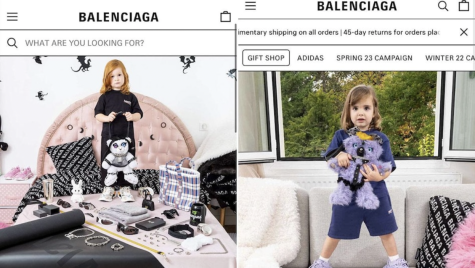 Why were these files on a fashion brand photoshoot featuring child models? Balenciaga claimed to CNN that, "all the items included in this shooting were provided by third parties that confirmed in writing that these props were fake office documents. They turned out to be real legal papers most likely coming from the filming of a television drama." What are the chances of an assistant casually reading the child pornography Supreme Court case, leaving it on set in camera view and the professionals reviewing it, just saying "leave it, it works"?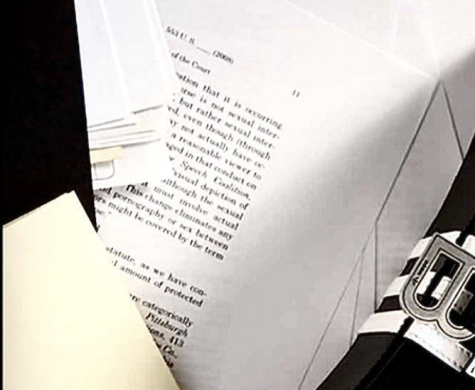 This was intentional. Now, playing devil's advocate, Balenciaga might have intended the shoot to bring awareness to child sexualization in Hollywood. However, why would they then apologize so quickly for the ad? After the teddy bear backlash, Balenciaga then issued a statement to the public saying "We strongly condemn child abuse; it was never our intent to include it in our narrative…The two separate ad campaigns in question reflect a series of grievous errors for which Balenciaga takes full responsibility." 
But responsibility clearly wasn't in season for Balenciaga as they later filed a lawsuit against the production company, North Star Inc, who was in charge of staging the photo shoot for Balenciaga 2023 Spring Collection, seeking $25 million in damages. The court filing alleges that, as a result of the defendant's actions, "members of the public, including the news media, have falsely and horrifically associated Balenciaga with the repulsive and deeply disturbing subject of the court decision." North Six and Des Jardins,( North Six Financial Services Company), should be held liable for "all harm resulting from this false association." 
Days later Balenciaga dropped the lawsuit on the account of failing to provide any exhibits or additional claims in the three-page lawsuit. Its creative director, Demna Gvasalia, then apologized for the ad and introduced Balenciaga's action plan of donating and contributing to the organizations that protect and serve children. 
If Balenciaga really was trying to make a statement about child abuse in Hollywood, why not explain their purpose and then deflect the liability unto the production company they hired? It all comes down to, who is really responsible for this ad? All the supervisors, managers, directors, influencers involved and no one, absolutely no one said, "Rewind that last pic for a sec."
Twitter, Fox News with Tucker Carlson and Instagram caught on and claimed that Balenciaga used their platform to sexualize children and advertise child trafficking/pornography. Now I'm never one to quote Fox News, however they did make some critical points worth discussing. They are as follows.
1.) "It is a staple of so-called conspiracy theories that at the highest levels of politics and finance, there is a shadowy cabal of pedophiles who use their power to hide the crimes they commit against children"
Now this has some truth in it. The idea of the elite circles hiding their secrets and disturbing sexual fantasies is no stranger to the American public. Jeffery Epstein, Bill Cosby, and R. Kelly were at the top of their game with thousands of fans and investors supporting their careers, which then came crashing down as brave survivors raised their voices to their abuses. Kelly, especially, who was seen as a successful figure in the African-American community was considered shielded from such troubles until officials and the media caught wind of [the accusations/allegations] . The fall of these "superstars" spread the vision of strength in numbers and no man being protected when it comes to sexual misconduct. Yet does the same apply for brands?
2.) "Balenciaga is a company that sells $1,100 dollars sneakers and cotton sweatshirts for $1,500 bucks to people who've literally run out of things to buy. You're probably not doing your back-to-school shopping at Balenciaga, but some people apparently are."
This is an important point. Newsflash, Balenciaga is not for the average person. Balenciaga is a special occasion for some people and a fantasy for others, therefore the controversial advertisement was directly towards the wealthy and powerful. This fact can be incriminating and used as evidence for the first point quoted by Fox News, however from the perspective of the fashion industry, not so much. High fashion is different, in which high fashion designers usually use their clothes as a message rather than casual use. Therefore, advertising to the elite, with a message about their secret lifestyle to the rest of the world equals a message lost for everyone.  
Artist Summer Walker tweeted to the news: "Cancel them how y'all canceled Kyrie and Kanye." Now the problem with this quote is, the general public can not cancel a brand not meant for them. Balenciaga is for the rich and famous, therefore it is up to the rich and famous to take the incentive to cancel a brand they deem as wrong. Conservative Candace Owens slammed Kim Kardashian as the ambassador of Balenciaga who responded to the ad, saying she was "disgusted" and "shocked" six days after the incidents. 
Owens tweeted: "It only took six days for @kimkardashian to not actually condemn Balenciaga for child pornography because although she was disgusted and outraged—money is money and sometimes you gotta let child pornography fly for free clothes and money."
As a businesswoman, Kardashian can absolutely take the appropriate time to evaluate the situation and decide what she was going to say as the representative of a brand that is paying her and has her loyalty vice versa. Following Owens's comment, Kardashian then decided to reject future deals and outfits from the Balenciaga brand. So, public comments/tweets are influencing political commentators to go after influencers and brands, who then reflect the blame towards production companies taking orders from the brands, paying for the influencers who depend on the likes and comments. Are you dizzy yet? 
This controversy was big, but like other brands Balenciaga will recover and carry on. So, are brands invulnerable to scandals and public backlash?