Cozy Winter Breakfasts
Mia Kitaeff, Arts & Entertainment Writer
January 24, 2023
What better way to wake up on a chilly Sunday morning than to have a sweet breakfast baking in the oven? Personally, a tradition of mine is to have a pastry breakfast on New Year's morning, to start the year off with something delicious, warm, and comforting. These cozy choices are better enjoyed with friends or family, but can also be reserved for one. Whether you prefer sweet or savory, these recipes are sure to start your day with a smile!
Overnight French Toast Casserole 
**Note: I made this casserole using a large loaf of Challah bread instead of a French loaf, and I think it is much better this way. My friends and I devoured this for New Year's breakfast! It was definitely perfect for the occasion, or for any other with friends/family.  
Ingredients:
1 cup brown sugar

½ cup unsalted butter

1 (8 ounce) loaf crusty French bread OR Challah bread, cut into bite-sized pieces, or more as needed

2 cups milk

6 large eggs

2 teaspoons vanilla extract

1 tablespoon brown sugar, or to taste

¼ teaspoon ground cinnamon, or to taste
Directions:
Grease a 9×13-inch baking dish.

To make the French toast, stir the brown sugar and butter together in a saucepan over medium-low heat until the butter is melted and sugar has dissolved, 2 to 4 minutes.

Pour butter-brown sugar mixture into the prepared baking dish and scatter French bread pieces over top in a 1 1/2- to 2-inch layer.

Whisk milk, eggs, and vanilla together in a bowl until well combined. Pour over bread pieces, then press bread down with a spatula so the bread absorbs the liquid. Cover the dish with plastic wrap and refrigerate, 8 hours to overnight.

When ready to bake, remove French toast from the refrigerator and discard plastic wrap. Preheat the oven to 450 degrees F (230 degrees C).

Make topping: Mix brown sugar and cinnamon together in a small bowl. Sprinkle over the French toast.

Bake in the preheated oven until the casserole is browned and bubbling, about 30 minutes, covering with aluminum foil at any point if the top is browning too much.
Coffee Cake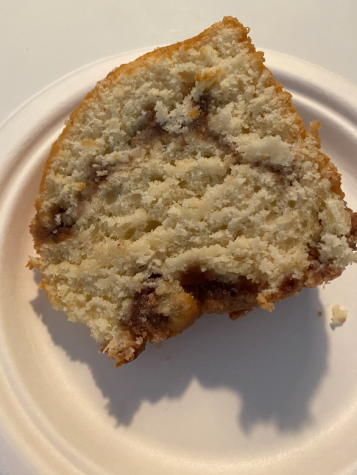 Photo Caption: Coffee cake, sure to be a favorite with family and friends.
**Note: This is my favorite dessert to make for breakfasts with my grandparents and younger cousins. It's a big crowd pleaser, and very simple to make. This cake is even better after a bagel breakfast paired with a nice cup of coffee or tea. 
Ingredients for the cake: 
3 cups AP flour

2 tsp baking powder

1 tsp baking soda

1 tsp salt

1/2 tsp cinnamon (plus 1 tsp for cinnamon sugar)

1 cup softened butter

1 1/2 cups granulated sugar (plus 1 tbsp for cinnamon sugar)

3 eggs

2 tsp vanilla

1 3/4 cups sour cream
Ingredients for crumb topping:
3/4 cup AP flour

1/4 cup brown sugar

1/4 tsp cinnamon

1/4 tsp baking soda

1 pinch salt

 4 tbsp softened butter 
Directions: 
 Preheat oven to 375

For the cake: in a medium bowl, combine flour, baking soda, baking powder, salt, and cinnamon and set aside.

 In a stand mixer, combine butter and sugar, mix until smooth and light in color. Add in eggs and vanilla, then add the sour cream. 

 Fold in dry ingredients and pour half into the prepared pan, sprinkle with a layer of cinnamon sugar, then add the other half of the batter. 

Prepare crumb topping by folding butter, flour, brown sugar, cinnamon, baking soda, and salt together, and sprinkle a generous amount on top. 

Bake for 35-45 minutes and cool completely before serving.  
Bacon and Egg Cups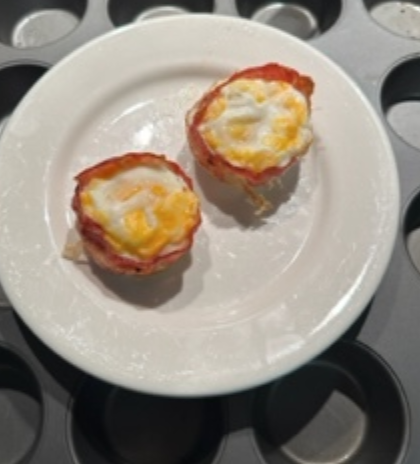 Photo Caption: Bacon and Egg Cups, portable and delicious.
**Note: A muffin tin is crucial for this recipe. These bacon and egg cups are a super easy brunch idea and easy to personalize to your liking. 
Ingredients: (makes 6 servings, modify as desired)
6 slices pre-cooked bacon

6 eggs

Salt and pepper, to taste

Shredded cheese (optional, but highly recommended!)

Chives (optional)

Any of your favorite omelet ingredients
Directions:
Preheat the oven to 400 degrees.

Place the slices of bacon into the muffin tin (one piece per cup!), wrapping in a circle.

Bake bacon for 5-10 minutes.

Remove bacon from the oven and pour out excess grease. Crack one egg into each of the cups, sprinkle with salt and pepper and add cheese or any other desired toppings.

Bake for another 10 minutes, or until the egg yolks reach your desired consistency. (6-8 minutes for a softer yolk- my personal preference!)

Run a knife around the edge of each cup to loosen and remove. Sprinkle with chives if you would like.